The fall of the USDC currency, options for the development of events – Analytics & Forecasts – 12 March 2023
USDC was one of the stablecoins, a coin pegged to the US dollar at a ratio of 1:1. It was co-created by Circle and Coinbase in 2018.
Recently, the USDC rate has remained stable against the US dollar, but the other day on March 11, the coin rate fell by 10%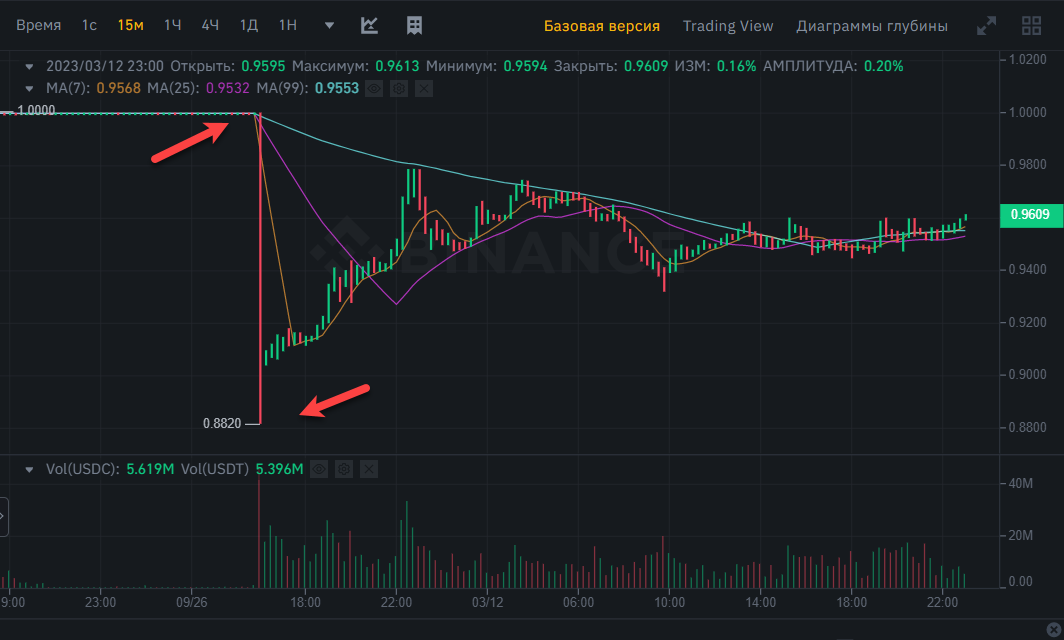 This fall is connected with the bankruptcy of Silicon Valley Bank, in which the creators of the stablecoin kept part of the collateral for $3.3 billion.
Options for the development of the situation
I think that the bank will be saved from bankruptcy, and, accordingly, the USDC coin rate will be restored, so one of the options to make money on this is by buying a coin with a discount.
Automate your trading with our Robots and Utilities
Scalper ICE CUBE MT4 – https://www.mql5.com/en/market/product/77108
Scalper ICE CUBE MT5 – https://www.mql5.com/en/market/product/77697
EA Long Term MT4 https://www.mql5.com/en/market/product/92865
EA Long Term Mt5 https://www.mql5.com/en/market/product/92877
Utility ⚒
EasyTradePad MT4 – https://www.mql5.com/en/market/product/72256
EasyTradePad MT5 – https://www.mql5.com/en/market/product/72454
Risk manager MT4 – https://www.mql5.com/en/market/product/72214
Risk manager MT5 – https://www.mql5.com/en/market/product/72414
Indicators 📈
3 in 1 Indicator iPump MT4 – https://www.mql5.com/en/market/product/72257
3 in 1 Indicator iPump MT5 – https://www.mql5.com/en/market/product/72442
Power Reserve MT4- https://www.mql5.com/en/market/product/72392
Power Reserve MT5 – https://www.mql5.com/en/market/product/72410