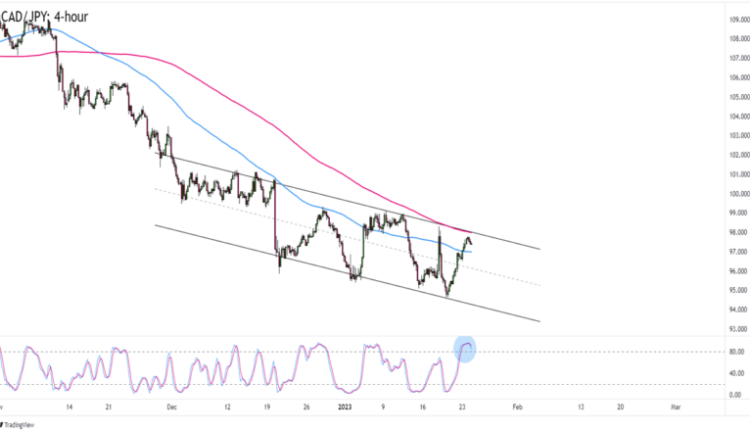 Forex Watchlist: Watching CAD/JPY's Trend Pullback Ahead of BOC's Decision
If you haven't gotten enough of central banker-speak then you're gonna love that BOC is publishing its latest monetary policy decision tomorrow at 3:00 pm GMT.
Any central bank decision is a BFD for forex traders but BOC's event just might bring more CAD volatility than the usual.
See, after a dovish shift from "interest rate will need to rise further" in October to "Governing Council will be considering whether the policy interest rate needs to rise further" in December, markets are expecting the BOC to raise its interest rates by a smaller 25 basis points to 4.50%.
And if that doesn't ring "less hawkish" to you, word around is that BOC will also signal a "pause" on its rate hikes amidst stalling growth and price pressures.
Naturally, more than a few traders are taking "pause" to mean "done for the year."
If BOC does signal an end to its rate-raising ways, then CAD/JPY could extend its downtrend.
The pair is already turning lower from a descending channel resistance that's been holding since December.
Dynamic inflection points also make it easier to sell CAD/JPY as the 100 SMA continues to trade below the 200 SMA.
Last but not the least is Stochastic, which is signaling CAD/JPY's "overbought" conditions after an upswing that started on Thursday.
I wouldn't dismiss an upside breakout, however.
IEA and OPEC's bullish outlook from last week are doing crude oil prices a favor especially as traders are pricing in their optimism that China's reopening could boost global demand.
Overall risk-taking and expectations of less tightening from major central banks are also propping up commodity-related currencies like CAD.
If markets focus on BOC's less hawkish announcement, then CAD/JPY could drop to the 96.00 inflection point if not the 94.00 January lows.
But if risk-taking continues to be the name of the game for the rest of the week, then CAD/JPY could see a reversal on the 4-hour time frame.
This content is strictly for informational purposes only and does not constitute as investment advice. Trading any financial market involves risk. Please read our Risk Disclosure to make sure you understand the risks involved.