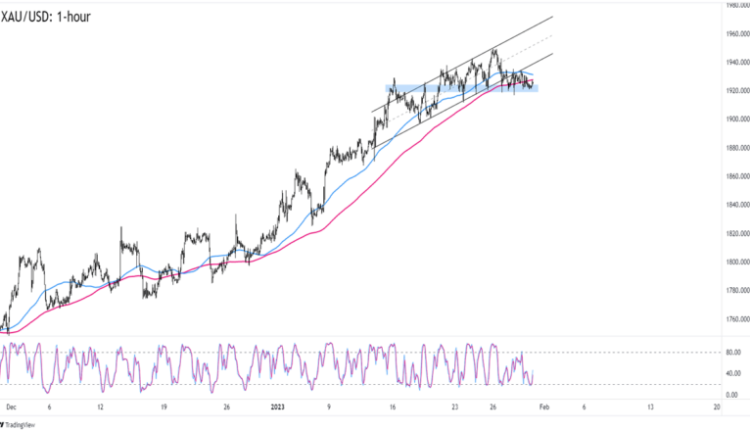 Commodities Watchlist: Spot Gold (XAU/USD) To End Its Uptrend Ahead of FOMC Decision?
The Fed is up in a few trading sessions!
Will the central bank's policy decision extend spot gold's short-term uptrend?
In case you missed reading this week's top economic events to watch out for, the FOMC is expected to raise its interest rates by another 25 basis points to 4.75%.
But everyone and their momma already knew that.
All the drama will come from Jerome Powell's presser where the Fed Chairman will do his best to communicate that a slowdown in rate hikes DOES. NOT. MEAN. PIVOTING.
If Powell succeeds in communicating the Fed's plan to continue its hawkish path then spot gold – a safe haven that doesn't yield interest – will lose its shine against USD.
This is bad news for gold bugs who have already lost the ball on the ascending channel pattern on the 1-hour time frame.
Not only is XAU/USD trading below the channel, it's also trading below the 100 and 200 SMAs for the first time this year.
A USD-friendly trading environment may lead to a bearish SMA crossover on the 1-hour chart and drag XAU/USD to previous inflection points like $1,900 or $1,880.
But if traders see Powell's hawkish messages and take them to mean "rate cut maybe later this year" then holding non-yielding gold may not sting as much as when USD is expected to yield higher interest rates.
XAU/USD could go back to trading above the 100 and 200 SMAs and maybe revisit January's highs near $1,950.
What do you think? Can spot gold extend an uptrend that started in November? Or is the commodity in for a reversal?
This content is strictly for informational purposes only and does not constitute as investment advice. Trading any financial market involves risk. Please read our Risk Disclosure to make sure you understand the risks involved.