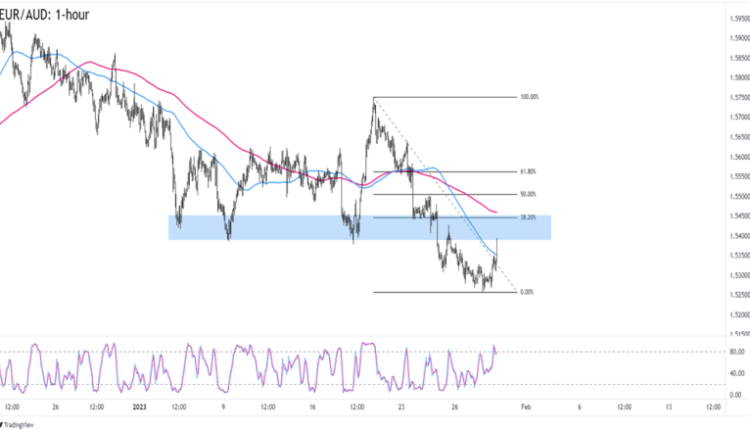 Daily Forex News and Watchlist: EUR/AUD
EUR/AUD is bouncing from its January lows!
How can today's market themes influence the pair's intraday price action?
Before moving on, ICYMI, I've listed the potential economic catalysts that you need to watch out for this week. Check them out before you place your first trades today!
And now for the headlines that rocked the markets in the last trading sessions:
Fresh Market Headlines & Economic Data:
11% m/m uptick in exports tightens NZ trade deficit to 475M NZD – the lowest in seven months – in December
UK business optimism at six-month high in January despite recession risks
Switzerland's leading KOF economic barometer up from 91.5 to 7-month high of 97.2 in January
Gold and US dollar steady ahead of this week's FOMC decision
European sees lower open ahead of expected rate hikes from Fed, ECB, and BOE
Spain's inflation surprises at 5.8% y/y vs. 4.7% expected in January
Germany's GDP unexpectedly contracted by 0.2% in Q4 vs. 0.5% growth in Q3, annual growth slowed down from 1.3% to 1.1%
Japan's unemployment rate at 11:30 pm GMT
Japan's preliminary industrial production at 11:50 pm GMT
Japan's retail sales at 11:50 pm GMT
AU retail sales at 12:30 am GMT (Jan 31)
China's manufacturing and non-manufacturing PMIs at 1:30 am GMT (Jan 31)
Use our new Currency Heat Map to quickly see a visual overview of the forex market's price action! 🔥 🗺️
What to Watch: EUR/AUD

If you haven't checked this week's anticipated economic releases yet, you should know that the European Central Bank (ECB) will publish latest policy decision in the next couple of days.
Markets see the central bank raising its interest rates by 50 basis points, which is pretty aggressive considering that other major central banks are already easing the pedal from the metal.
The anticipation of higher rates has helped lift EUR/AUD from its January lows.
The pair is now trading closer to 1.5400, a level that had served as support earlier this month and is more aligned with the 38.2% Fibonacci retracement of the latest downswing.
Will we see a support-turned-resistance situation in the next trading sessions?
Data printed earlier showed Spain's inflation rising much faster than analysts had expected in January. However, Germany – the Eurozone's largest economy – also unexpectedly contracted in Q4.
If traders price in their concerns that higher rates would lead to even lower economic growth, then EUR/AUD could drop back to the 1.5300 inflection point.
But if risk aversion becomes the name of the game in the next trading sessions, or if traders are anticipating weaker PMI reports from China, then EUR could take advantage of its safe-haven status and extend its uptick against AUD.
EUR/AUD could bust above the 1.5400 – 1.5450 resistance zone and retest higher areas of interest before finding enough sellers.