MULN down 16.5% this week
Mullen Automotive stock is losing value on Friday.
MULN stock has lost more than -16% YTD. 
To continue its production ramp up goals, Mullen will probably need to keep diluting shareholders.
Mullen management could boost oustanding shares from 1.7 billion to 5 billion.
Mullen Automotive (MULN) has experienced an awful slide this week. Early January's rally has now dissipated, and MULN stock is down -16.5% this week alone and -15% for the year. This is despite rising as much as 66.6% year to date early in the month.
Equity markets have risen on Friday, and NASDAQ futures are well of ahead of other indices at +0.8%. Meanwhile, MULN stock has lost more than 2% to trade as low as $0.264.
Mullen Automotive stock news
Mullen shareholders and outside traders are just not certain any investment in Mullen will not be completely diluted. Based on filings from Mullen, the 1.7 billion in shares oustanding could be pushed as high as 5 billion. Back in 2021 the company had 23.4 million shares oustanding.
The EV upstart, helmed by CEO David Michery, is undertaking a number of separate tasks. It is developing commercial production for the Mullen FIVE crossover, which will likely not be delivered until 2025. It is also preparing its Indiana factory to build class 1-6 chassis commercial delivery vehicles with designs obtained from its acquisition of Bollinger Motors. Last fall it closed on a $100 million+ acquisition of Electric Last Mile Solutions.
Capex is extremely expensive in the automotive business. Rival EV startup Rivian (RIVN) has many problems ramping up production at the moment but at least has $13 billion on its balance sheet. Mullen on the other hand only has somewhere around $50 million of unrestricted cash, probably much less.
Yet Mullen Automotive remains one of the most talked about stocks on retail trader forums, and fans hope it can perform the kind of miracle that Tesla (TSLA) did over the past decade.
Mullen Automotive stock forecast
Traders paying attention over the past week are probably already out of the market and waiting for a reentry if anything. When MULN stock dropped below the $0.33 resistance/support level, the 9-day moving average and the 21-day moving average all on the same day, observant traders new it was time to cut losses. From here Mullen stock will retest either the $0.21 or $0.18 price levels. Some bulls will likely reenter at those support levels to attempt another rally at that point.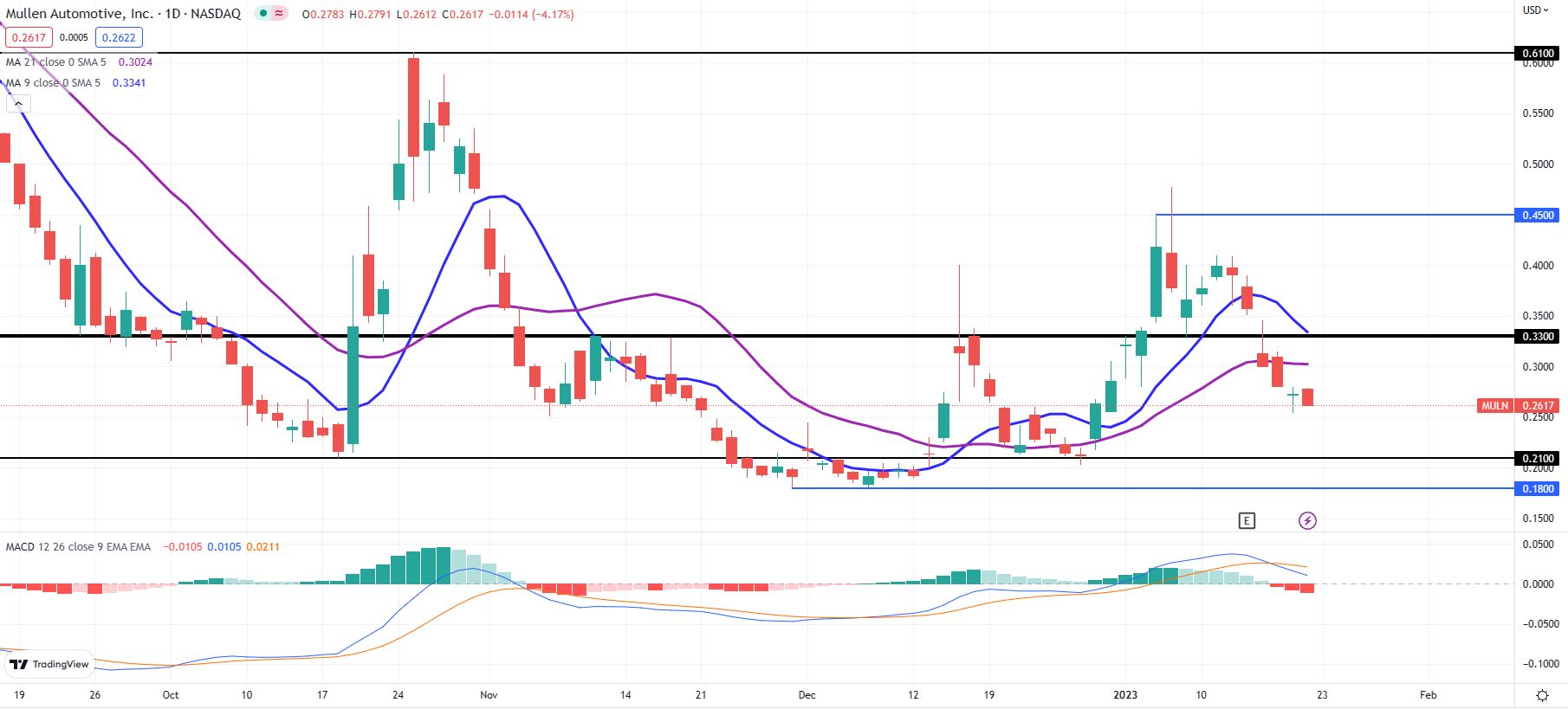 MULN daily chart