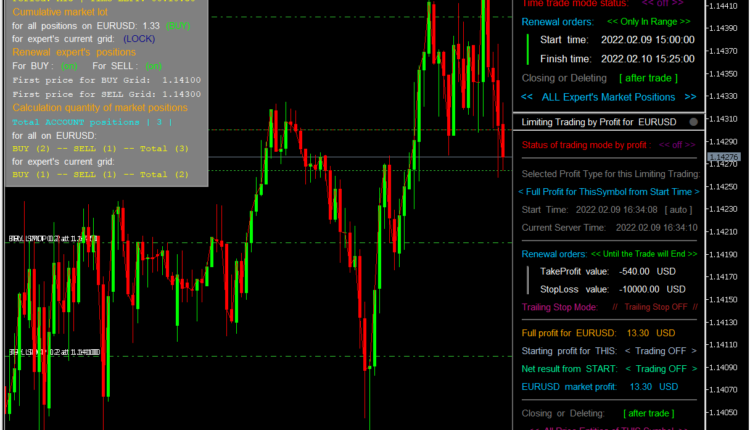 Master Grid MT5: Basic Strategy – Other – 28 January 2023
Reopening closing positions  [key features]
  Buy for MetaTrader 5  >>  Master Grid MT5  
Automatic creation and maintenance of BUY and SELL grids consisting of pending orders and positions placed at a given step in any direction from the initial prices. Each of these grids can exist separately and has completely independent settings.
Automatic placement of take-profits and stop-losses for each order or position of the adviser with the value set in the settings (which may remain zero). At the same time, both take-profits and stop-losses can be changed at any time for all current price levels.

Take-profit and stop-loss control can be disabled. This allows you to use arbitrary take-profit and stop-loss values for each individual order or position, and use the classic trailing-stop for each individual position. You can also change the starting price for any already placed pending order. That is, after the automatic placement of orders, you can change the settings of each individual order, thereby pointwise adjusting the grid to your liking, and each of these orders will continue to be controlled by the EA.
Automatic reopening of closing grid positions. That is, if a market position is closed by take profit or stop loss, a new pending order with the same settings will be immediately created in its place… and technically, such a grid can work indefinitely. At the same time, this functionality is not mandatory and is easily disabled in the settings.
Dynamic change in the number of already placed price levels right in the process of trading. That is, if the market situation changes, the EA allows you to change its settings on the fly so that the trader can adjust the grid to the new conditions. If you change the grid step or its primary prices, then pending orders will be replaced with new ones (if necessary). And for market positions that may remain from the previous grid, individual statistics will be kept and a separate management system will start working for them. If desired, they can be quickly removed with a special button.
To control this type of trading, a special information panel has been created. Together with a system of various alerts, it helps to easily navigate any number of placed orders and positions… together with their take profits and stop losses, and at any density. At the same time, this panel can be easily moved with the mouse, minimized and scaled.
---
Demonstration of some technical possibilities of the basic strategy
on the example of Elastic Grid MT5
---
---
Some screenshotson the example of one of the junior versions of this EA (Elastic Grid MT5)