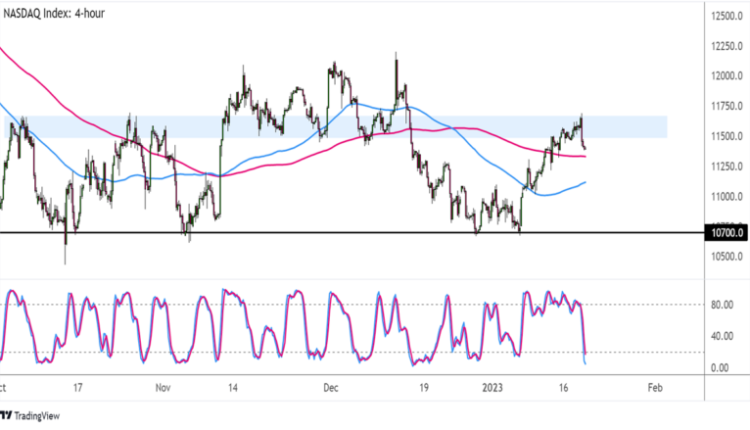 Equities Watchlist: Another Day, Another Dip for the Nasdaq?
Are U.S. equities in a sluggish mood after seeing downbeat retail sales data?
This stock index appears to be retreating from the ceiling visible on the 4-hour time frame.
How low can it go from here?
Just when it seemed like the Nasdaq was ready to bust through the ceiling near $11,750, bears took over and spurred a selloff!
Technical indicators are also hinting that more losses are in the cards.
The 100 SMA is still below the 200 SMA to show that the path of least resistance is to the downside while Stochastic is heading south.
With that, the stock index could slump all the way down to the next key support zone around $10,700.
Just take note that the oscillator is approaching oversold levels to reflect exhaustion among sellers soon, so turning higher would mean a return in bullish pressure.
If that's the case, the index could attempt another break above the area of interest and make its way up to the next highs at $12,250.
Downbeat U.S. consumer spending data seems to have soured the mood for U.S. investors, as both headline and core retail sales figures printed 1.1% declines.
Talk about reviving recession fears!
In any case, make sure you keep tabs on headlines affecting overall market sentiment, as these could determine if U.S. equities could spend another day in the red.
This content is strictly for informational purposes only and does not constitute as investment advice. Trading any financial market involves risk. Please read our Risk Disclosure to make sure you understand the risks involved.