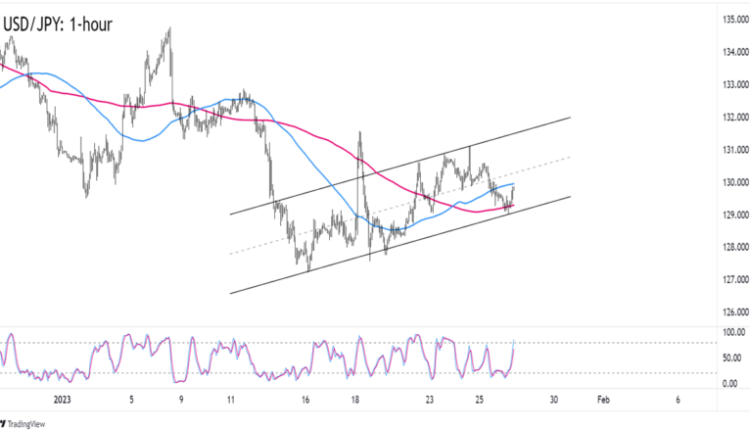 Daily Forex News and Watchlist: USD/JPY
USD/JPY looks ready to bounce ahead of the U.S. GDP report!
Can today's release extend the dollar's gains against the yen?
Before moving on, ICYMI, yesterday's watchlist looked at USD/CAD's triangle consolidation ahead of BOC's policy decision. Be sure to check out if it's still a valid play!
And now for the headlines that rocked the markets in the last trading sessions:
Fresh Market Headlines & Economic Data:
BOC hikes rates by 25bps to 4.50% as expected, signals data-dependent "conditional pause"
BOC Gov. Macklem: "We're not even thinking about cuts."
BOJ policymakers divided on wage, inflation outlook, January meeting summary shows
Shares in Asia hit fresh 7-month high, U.S. GDP data awaited
Dollar wobbles near eight-month low ahead of c.bank meetings
UK's CBI realized sales at 11:00 am GMT
US advance GDP report at 1:30 pm GMT
US core durable goods orders at 1:30 pm GMT
US initial jobless claims at 1:30 pm GMT
US new home sales at 3:00 pm GMT
Tokyo's core CPI at 11:30 pm GMT
NZ ANZ business confidence at 12:00 am GMT (Jan 27)
Use our new Currency Heat Map to quickly see a visual overview of the forex market's price action! 🔥 🗺️
What to Watch: USD/JPY

In a few hours, we'll see the first reading of Uncle Sam's growth for the last quarter of the year. Markets see the economy growing by an annualized rate of 2.6%, lower than the 3.2% uptick seen in Q3.
A stronger-than-expected GDP release would make it easier for Fed members to keep on raising their interest rates until inflation turns even lower.
That means holding USD would get higher yields and attract more buyers!
Hawkish Fed expectations could extend USD/JPY's uptrend in the 1-hour time frame. As you can see, the pair is already ready to bounce from the 200 SMA and an ascending channel support that hasn't been broken in weeks.
Improved USD demand might boost USD/JPY all the way to the 130.80 or 131.00 previous inflection points.
I wouldn't discount a downside breakout though.
A disappointing US GDP data would weigh on USD demand and probably remind traders that the Bank of Japan (BOJ) may also see a less dovish (or even hawkish) shift as soon as it gets a new head honcho later this year.
A weak U.S. GDP or a round of USD-selling could drag USD/JPY back down to the 129.00 psychological level. It could even break the channel support!
Whichever bias you end up trading, make sure to use proper risk management so you can trade for another day!