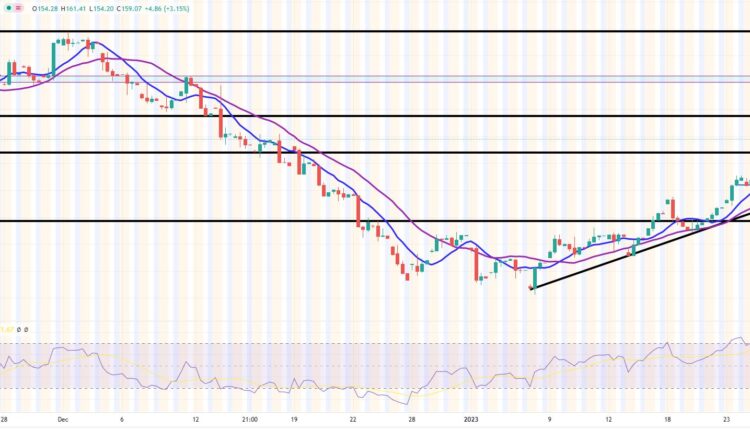 TSLA blasts through $154 resistance, $167.50 next up
TSLA stock soars more than 10% after earnings.
Tesla beat EPS consensus on Q4 earnings late Wednesday.
Tesla stock now takes aim at $167.50.
US GDP grew at 2.9% annualized rate in Q4.
Tesla (TSLA) stock is the leading stock on the NASDAQ on Thursday as Wednesday's post-market earnings release and a better than expected GDP number this morning have combined to lift animal spirits. TSLA shares traded as high as $161.42 on the open and currently trading up 10% just under $159 at the time of writing.  The NASDAQ Composite has resumed January's bull market and sits up more than 1.1% after the Commerce Department released Q4 GDP figures showing the United States economy grew at a 2.9% annualized rate. 
Most importantly for traders, TSLA stock has surmounted the strong resistance at $154. This means that Tesla is almost certainly back in a sustained uptrend.
Tesla stock news
For CEO Elon Musk's Tesla, Thursday's market is a double-whammy. First, TSLA stock is dashing ahead based on Elon Musk's bullish delivery projections. Then US GDP data shows that the US economy is more robust than previously thought.
Elon Musk surprised the market late Wednesday when he said though Tesla's delivery guidance for 2023 was set at 1.8 million, January's strong order volume was leading him to believe that 2 million might be closer to the final figure. This is because Tesla's late December price cuts across most of its models was spurring a surge in new orders. In fact, Musk said that orders were nearly twice current production levels. High January volume though could always just be cannabalizing demand for later in the year.
Still shareholders saw a lot to be excited about. Besides strong demand, Tesla will begin work on a $3.5 billion plant in Nevada to start making semi-trucks. With price tags above half a million dollars, this market will surely greatly bulk up Tesla revenues. Additionally, early production will begin this Summer on the Cybertruck, though full commercial production will not begin until 2024.
Tesla stock was met with a host of price target raises by analysts on Thursday. Wedbush Securities raised their price target from $175 to $200. Cowen raised it from $122 to $140. Wells Fargo raised it from $130 to $150. Wolfe Research raised it from $160 to $185. Bank of America raised it from $130 to $155. Citigroup raised its price target from $137 to $146.
Tesla stock forecast
Tesla stock pushing back the $154 price level is quite significant. This price acted a strong resistance on a slew of occasions in the second half of 2020. This time it is not taking three tries. Tesla bulls now faces off against $167.50. This price level worked as resistance twice in 2020 and then again as support in November 2022. The next area of interest above $167.50 is the support zone between $180 and $182.50. Bulls should take note, however, that Tesla stock has advanced far into overbought territory on the Relative Strength Index (RSI), which normally means that a consolidation period is ahead. Based on the euphoria in markets, that does seem unlikely though.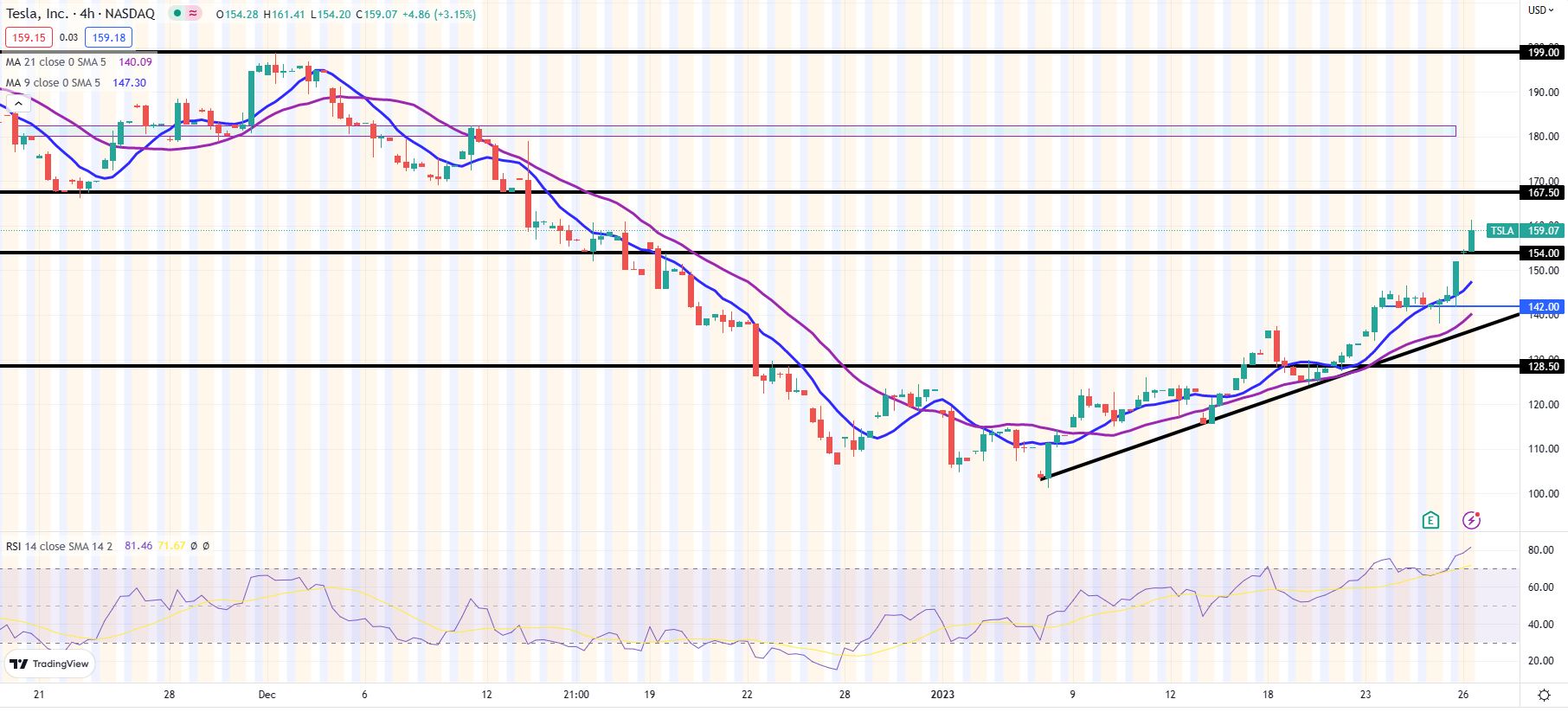 TSLA 4-hour chart