SOFI adds 7% on resumption of student loan payments

Share:

SoFi Technologies stands to benefit from Washington's debt-ceiling compromise.
Paused since covid, US student loan payments will resume in August based on debt limit compromise.
As a large student loan servicer, SOFI stock rises 7% in Tuesday premarket.
Student loan originations could quadruple from current levels.
SoFi Technologies (SOFI) could be one of the stocks most benefited from Washington's debt-ceiling compromise. As part of the deal hacked out over the weekend, student loan payments would resume. One of the country's most active student loan servicers, SoFi could see loan originations go back to their pre-pandemic heights by the end of this year.
SoFi stock news: Student loan payments could resume in August
On Saturday, President Joe Biden and House Speaker Kevin McCarthy signaled that there was agreement over a decision to raise the federal debit limit by $4 billion, which would mean another increase will not be necessary until at least 2025. As part of that deal, the Republicans demanded that the student loan pause end immediately. As much as $5 billion in student loan monthly payments should resume by the end of August due to the 60-day notice period beginning on June 30.
Prior to covid, SoFi had a healthy loan refinancing business. For instance, in the fourth quarter of 2019 SoFi originated $2.4 billion, but this dropped to $2 billion in all of 2022 due to the student debt payment pause.
SoFi has the spare capacity to begin lending at a high rate. In recent quarters, including the first quarter of this year, SoFi has seen deposits growing by more than $2 billion per quarter. Despite March's deposit flight that helped several banks go under, SoFi appears untouched due to its relatively high customer interest rates. 
One has to wonder if SoFi CEO Anthony Noto saw the writing on the wall. The chief executive bought 188,000 shares of SOFI earlier this month, which at the time of purchase amounted to nearly $900,000. He began by buying on May 4 with a 50,000-share purchase. The next day he bought another 30,000. Then again on May 15, Noto topped it off with a 108,000-share buy. The CEO now owns 6.49 million shares. It is just 0.7% of the company, but it should hearten many of the shareholders who have witnessed the share price drop 24% over the past year.
SoFi stock forecast
SOFI stock has been in a downtrend since February 2, when it produced a range high at $8.24. That showing was right in the middle of SOFI's long-term resistance zone of $8 to $8.50, which began in March of last year. Since February 2 of this year, a sharply descending trendline has been holding SOFI's ambitions down to earth. Of course, it did not help when brokerage Wedbush tacked on a $2.50 price target on SOFI's stock based on its review of the company's accounting tactics and fee income.
SOFI bulls will need to overtake that descending trendline to provoke a larger rally. The top trendline currently sits at $6.10. Then there is the May 1 resistance point at $6.50, a level that served as support back at the start of the year. Recent support at $4.50 will need to work again if that trendline is not overtaken soon.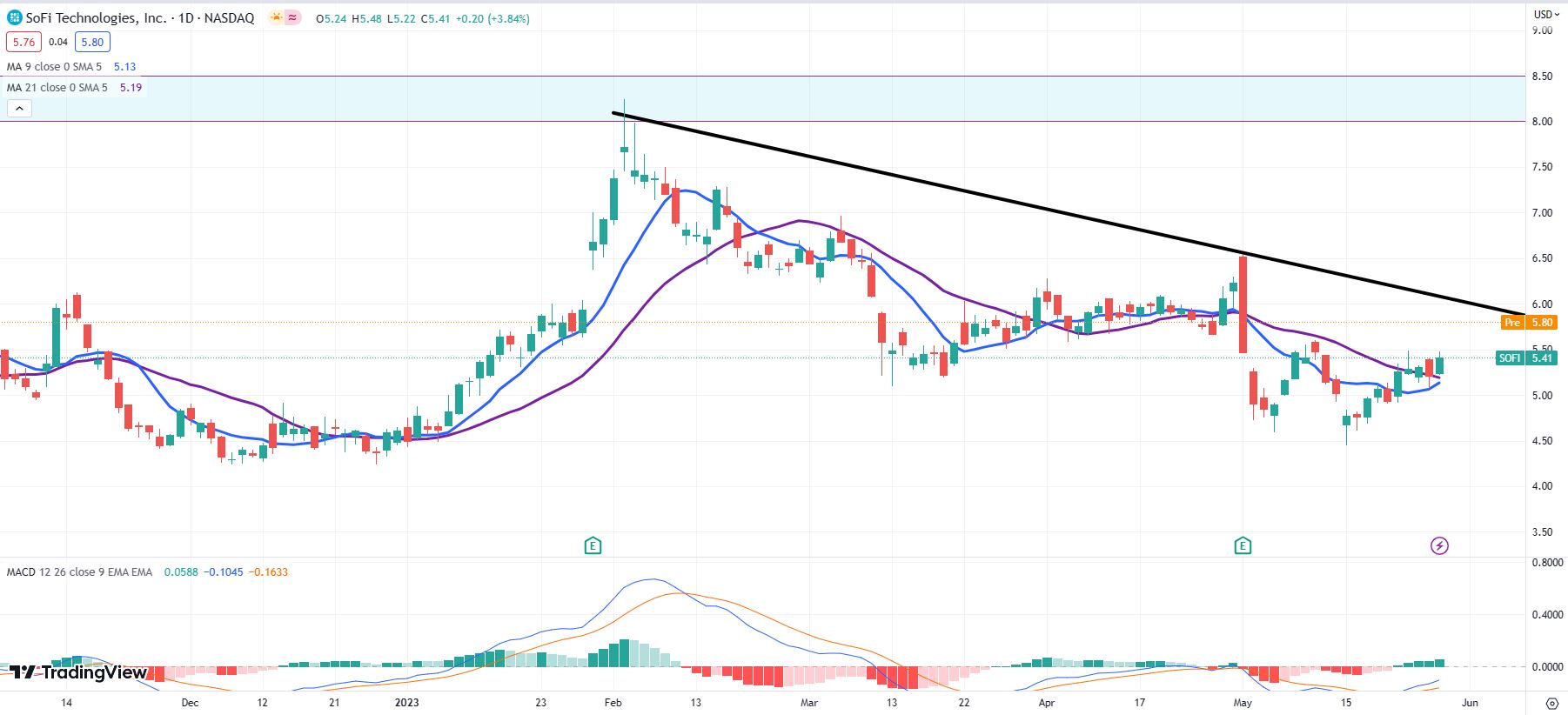 SOFI daily chart
The author owns shares of SOFI.