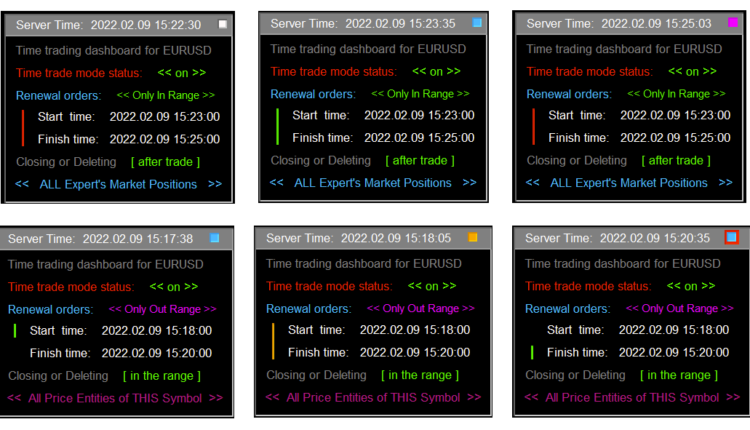 Master Grid MT5: Time Control – Other – 28 January 2023
Trading with a TIME Limit  [ Start – Finish ]
  Buy for MetaTrader 5  >>  Master Grid MT5  

Trade only within a specified time range
Trade only outside the specified time range
Simultaneous launch of the advisor on different instruments with different settings for different times. Different magic numbers must be used.
Trading on a schedule: simultaneous launch of an advisor on different charts of the same instrument with different time ranges and settings. Different magic numbers must be used.
Additionally, you can configure the deletion or closing time for selected orders and positions:
After the expiration of the trading time, of trading within the specified range is activated
Inside the range, if trading outside the specified range is activated
At the same time, Master Grid MT5 can delete and close not only its orders and positions. The settings allow you to choose almost any type and affiliation. This functionality can be additionally applied not only in manual trading, but also when trading with other Expert Advisors.
Special Information Dashboard
For this mode, EA creates a separate information panel that improves control over the selected settings and constantly monitors the current trading situation, accompanying it with various thematic indications. By clicking on the indicator (the upper right square of any color), you can collapse or expand the panel again, thereby controlling its display on the chart at any time. The panel can also be easily moved around the chart and scaled.
---

Demonstration of some technical possibilities with a Time Limit
on the example of Elastic Grid MT5
---
---

Some screenshots on the example of one of the junior versions of this EA (Elastic Grid MT5):