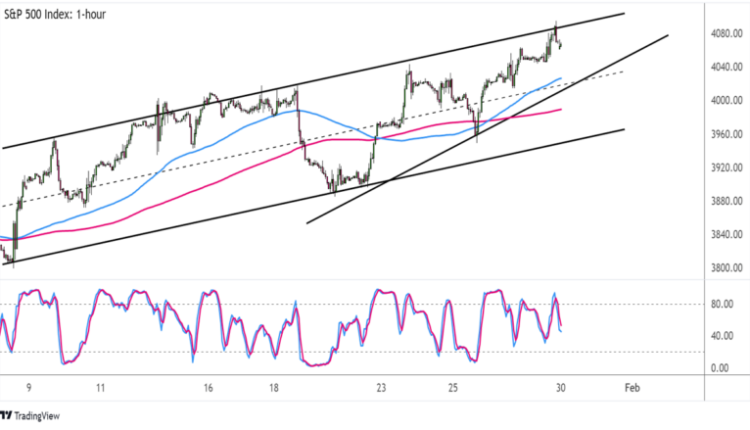 Equities Watchlist: Can the S&P 500 Index Uptrend Continue?
Bullish on U.S. equities lately but missing out on the rallies?
Check out these potential pullback levels on the S&P 500 index!
I'm seeing opportunities to catch a shallow retracement or a larger channel correction.
This equity index has been forming higher lows and higher highs since the beginning of the year!
Right now, it's cruising inside an ascending trend channel and testing the resistance. If another pullback is in order, I'm keeping an eye out for tests of nearby support zones.
In particular, I'm watching out for a bounce off the bottom of the channel around 3,950-4,000, especially since Stochastic is suggesting that there's room for the correction to keep going.
However, the top-tier catalysts lined up this week might let the rallies resume early!
We've got the FOMC decision coming up, followed by the NFP release later on. Of course leading jobs indicators due throughout the week might also spur volatility for the S&P 500.
Many are hoping that the Fed would slow down its pace of tightening soon, given how price pressures and jobs growth are easing. If that's the case, business outlook could improve with the prospect of lower borrowing costs.
This might be enough to sustain the optimism in U.S. markets, which seems to be fueled by subdued recession fears.
Besides, it's also worth noting that the 100 SMA is above the 200 SMA on the hourly chart of the stock index, suggesting that the uptrend is likely to gain traction.
If bulls are eager to charge, the index might even bounce off the mid-channel area of interest. This is right smack in line with a short-term rising trend line and the 100 SMA dynamic support!
This content is strictly for informational purposes only and does not constitute as investment advice. Trading any financial market involves risk. Please read our Risk Disclosure to make sure you understand the risks involved.