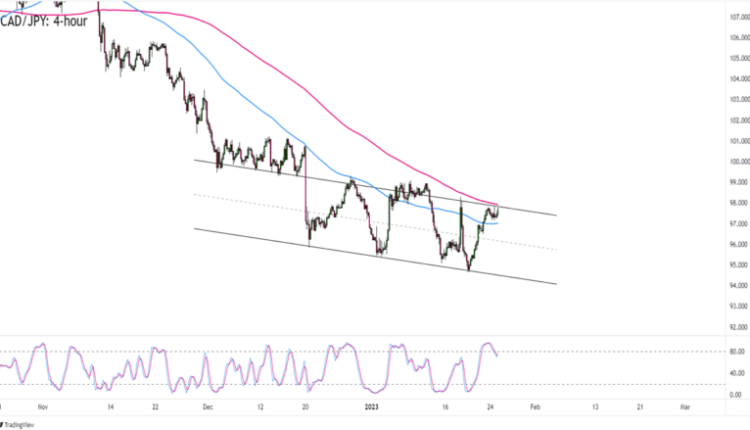 Chart Art: Trend Continuation Setups for Ether (ETH/USD) And CAD/JPY
Welcome to mid-week trading, errbody!
Both Ether (ETH/USD) and CAD/JPY are hitting verrry important trend resistance zones right now.
Think the trend will continue to be our friend for the rest of the week?
CAD/JPY fell sharply in October after the pair found resistance at the 110.00 psychological handle.
The selling has since taken a chill pill BUT the pair hasn't stopped making lower highs and higher lows. In fact, it's showing a visible downtrend on the 4-hour time frame!
The ball is on the bears' side right now as CAD/JPY tests the 97.75 channel resistance that happens to be near the 100 and 200 SMAs on the chart.
Sustained selling pressure could drag CAD/JPY back below the 100 SMA and maybe to the pair's January lows near 94.75.
But if this week's upswing gets enough support, then CAD/JPY could break above the channel and maybe hang out above the 100.00 major inflection point.
Ether (ETH/USD) is trading around the $1,550 mark, which is just below its monthly highs near the $1,670 region.
Are we looking at a pause before another upswing? Or are the bulls done attacking for now?
The next candlesticks would hint at the pair's next direction.
A couple more red candlesticks could draw more attention to Stochastic's overbought signal. ETH bears could start a bearish momentum that may drag ETH/USD to its mid-channel levels near $1,250 or even its $1,1000 previous lows.
If ETH regains its bullish momentum, however, then we gotta prepare for a move to the $1,700 zone and beyond.
An upside breakout, coupled with a possible SMA crossover, could propel ETH to the $2,000 major area of interest.
Watch this one closely, yo!