BABA stock advances again as logistics business eyes IPO

Share:

Alibaba's logistics unit is seeking Hong Kong IPO.
Bloomberg: Citigroup is speaking with Cainiao.
Valuation said to be $20 billion.
BABA makes its up to $103-$105 resistance zone.
Alibaba (BABA) stock has advanced as much as 4% on Thursday after the logistics subsidiary of China's ecommerce leader was reportedly already shopping banks for an IPO. Cainiao Network Technology, Alibaba's logistics arm, is speaking with bankers at China International Capital and Citigroup, according to reporting by Bloomberg.
This news has led BABA stock to run as high as $104.04 on Thursday, a price shareholders have not seen since February 16. The stock is up more than 25% off its $79.48 range low on March 20. The NASDAQ is also helping things as the tech-heavy index trades up 0.7%.
Alibaba stock news: Cainiao valued around $20 billion
That was quick! Only on Tuesday was it announced that Alibaba would be breaking up into six different units. Two days later and bankers are already talking IPOs for those units. On Monday founder Jack Ma returned from living abroad, and it turns out that his return was more momentous than the speech on artificial intelligence he gave at a K-12 school he helped found.
Alibaba will likely become six different companies. These consist of the cloud unit, which will be run by current Alibaba CEO Daniel Zhang. Former global retail head Jiang Fan will take over the ecommerce company, and Trudy Dai will lead Taobao TMall. Alibaba has yet to confirm who will lead the other units that are made up of Alibaba's media and entertainment group, its meal delivery business and other local services, and Cainiao.
Based on Bloomberg reporting, it appears that deal makers are banking on a $20 billion valuation. With Alibaba's current market cap of $270 billion, that would mean Cainiao would amount to about 7.5% of Alibaba's total value. Importantly, however, breaking up into six entities is supposed to lead to higher overall shareholder value. Insiders told Bloomberg that Cainiao is seeking an IPO by the end of the year and wants to be listed in Hong Kong rather than on the mainland. 
Cainiao means "rookie" in Mandarin, but the business is far from it. The company operates in partnership with 500 global logistics partners and operates nine overseas logistics facilities. In the quarter that ended in December, Cainiao reported $2.4 billion in revenue.
Alibaba stock forecast
BABA stock has made it up to the supply region between $103 and $105.32, where bulls have begun to see resistance set in. It is likely that quite a few traders will choose to take profit there as well. That range comes from profit-taking seen back in August 2022. 
A break though that obstacle would allow bulls to make a push toward late January resistance at $120. The 9-day moving average has effectively crossed above its 21-day counterpart, always a bullish sign, but bears will note that the Relative Strength Index (RSI) is already in overbought territory. That latter detail may lead one to think that BABA is in for more consolidation first before another leg higher. Expect the 9-day to bear some of that support.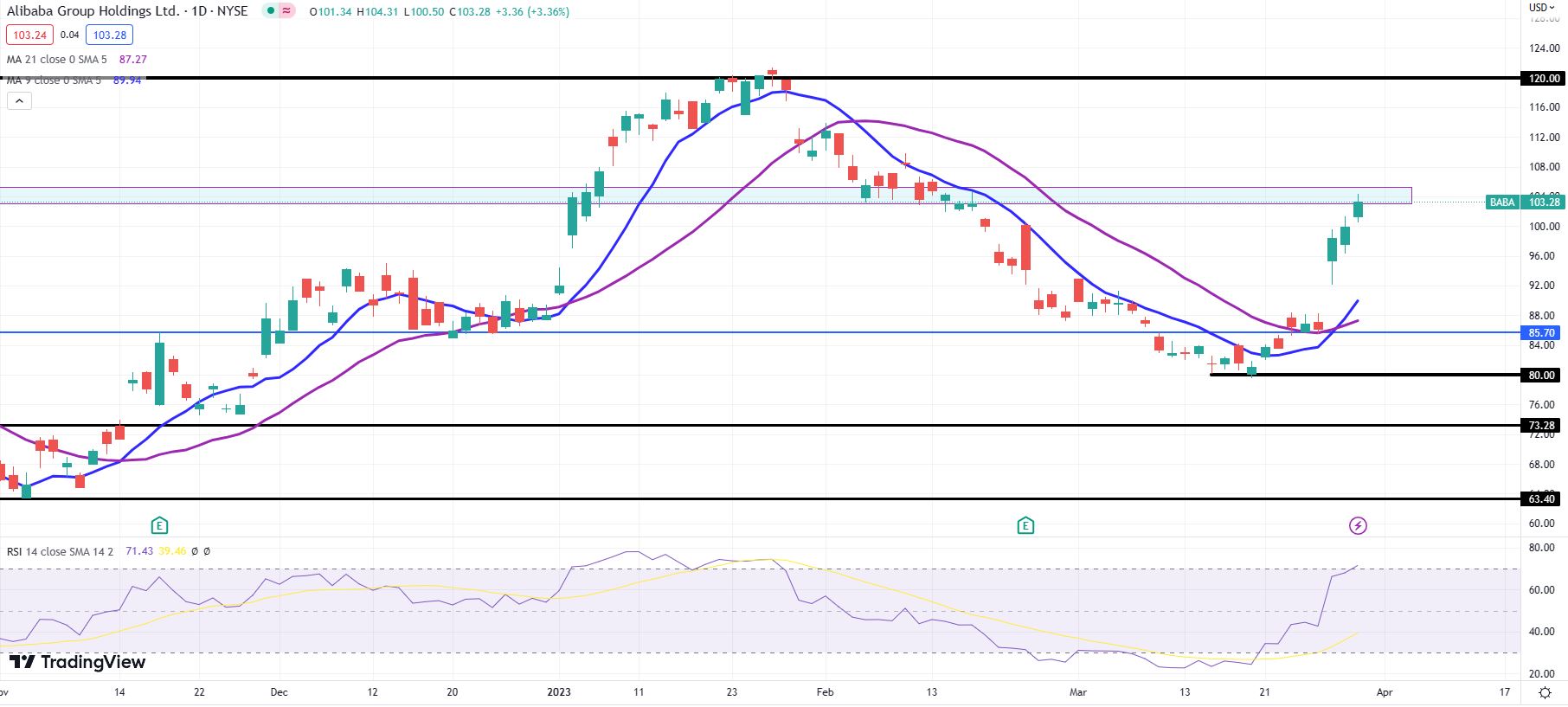 BABA daily chart